We currently pickup day old and damaged product from the following merchants:
Normandy Park:
We have a food bank donation drop-offs at the following locations:
The purchase of food is essential to our ability to give out a nutritionally balanced unit of service to our clients. Your continuing support is greatly appreciated by those in need.
Funding:
Our funding was generated from the following sources last year: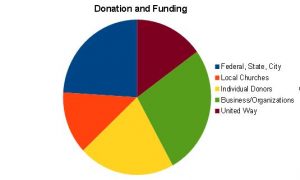 The total value of the donated food we distributed in2012 was over $1,219,050. We receive grants from King County, The United Way of King County, cities of Burien and SeaTac along with a federal grant from EFSP, and a state grant EFAP.
You may also designate the Highline Area Food Bank at your place of work in the The United Way Giving campaign.
Suggested Items for Donations:
Canned food- tomatoes, sauce, meat, tuna, soup, fruit, vegetables, peanut butter, jelly
Meal in a can- chili, stew, ravioli…
Meal in a box- burger/tuna helper, macaroni and cheese…
Packaged-pasta, cereal, oatmeal, pancake mix, rice, beans…
Hygiene – shampoo, toilet paper, toothpaste, soap, feminine products, deodorant

Baby- diapers (medium and large), diaper wipes, formula, baby food
Monetary Donations
We gratefully appreciate and welcome cash donations.  Your cash donations gives us the buying power to purchase food in bulk at wholesale prices, which makes your donations dollars go even farther helping those in need. 
Please make your checks payable to Highline Area Food Bank and either drop off in person or mail.
Highline Area Food Bank

P.O. Box 66427, Burien, WA 98166
Want to help instantly?  Please donate online now
click on Donate above.
Thank You for your support!